Croeso i Hafan Haf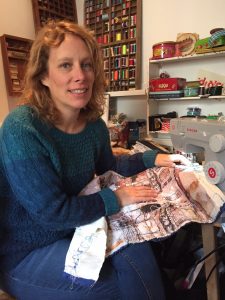 Artist sy'n byw ac yn gweithio ym Mhenarth, De Cymru yw Haf Weighton.
Mae'n defnyddio print, paent a phwythau i greu ei gwaith. Mae Haf yn ystyried ei phortreadau fel ymateb benywaidd, naturiol, emosiynol a sensitif i bensaernïaeth – strwythurau sydd fel arfer wedi eu creu a'u gynllunio gan ddynion yn hytrach na menywod.
Mae cariad Haf at deithio a'r diwylliannau sy'n gysylltiedig i'w hunaniaeth ei hun yn ganolog i'w gwaith. Mae'n tynnu ar brofiadau o'r lleoedd amlddiwylliannol mae'n eu galw'n gartref.
Fe fu gwaith Haf yn cael ei arddangos mewn nifer lleoliad. Yn ddiweddar yn y Knitting & Stitching Show, Llundain ac yn Oriel y Saatchi, Llundain.
–
Haf Weighton is an artist living and working in Penarth, in the Vale of Glamorgan, South Wales.
Working with paint, print and stitch, her portraits convey a sensitivity and connection to place. She uses the traditionally feminine language of thread to make marks over and through the traditionally male language of architecture, without dominance or desire to obscure or obstruct. Her marks and stitching soften the spaces, making them more earthy, vibrant and human.
As well as referencing her home town, her work explores the many other places she has lived and experienced.
'My love of travel and my own Welsh identity is a focus in my work and draws on my experience of the different places I have called home.'
Haf's work has been exhibited widely, including most recently at Knitting & Stitching Shows, Alexandra Palace, London and currently at The Saatchi Gallery, London until April 27th 2018.
AllPrivate CommissionsPublic CommissionsWork for Sale