Teaching
Haf is a trained teacher and qualified in 2003 from Brighton University from a PGCE in Art, Craft and design.
She taught art at Highgate Wood School in North London for over a decade and was second in charge of this very successful art department.
She initiated many partnerships for the art department including with the Saatchi Gallery. Haf suggested to the Saatchi Gallery they should highlight areas of their exhibitions to fit with GCSE and A-Level exam themes – an initiative that the Saatchi Gallery still runs today.
In 2008/9 The Saatchi Gallery exhibited some of The work by Haf's students and even sold their designs in the gallery shop.
Haf also developed a partnership with the Royal Albert Hall and a year 8 class from Highgate Wood had work exhibited at the Hall as part of their Frieze project in 2010.
In addition to this Haf also worked closely with the Education departments at The British Museum and The Estorick Collection of Futurist Art.
Haf also worked with Highgate Wood's Schools Head of Media to run a very successful careers evening where speakers included the comedienne Arabella Weir, the head of marketing for the London Olympics and Andy Parfitt of BBC Radio 1.
In 2017 Haf was appointed Creative Practitioner for the Arts Council of Wales at Pencoed Primary School in South Wales. The artwork created through this project, aimed at raising student attainment in numeracy, was displayed at The Hearth Gallery, Llandough Hospital in March 2017 and at The Saatchi Gallery in Spring 2018.
The hundreds of children who visit Haf's exhibition at the Saatchi Gallery have all been given a hand outline to create, based on symbols of their own identities. Each hand outline created at the Saatchi Gallery will be showcased alongside Haf's work at The Hearth Gallery in Llandough in the Summer of 2018.
>Haf worked on a Lead Creative Schools project at Ysgol y Berllan Deg in Cardiff in 201, aimed at using creativity to raise attainment in oracy.
Haf is also employed by Criw Celf to run art workshops with secondary school students across Wales.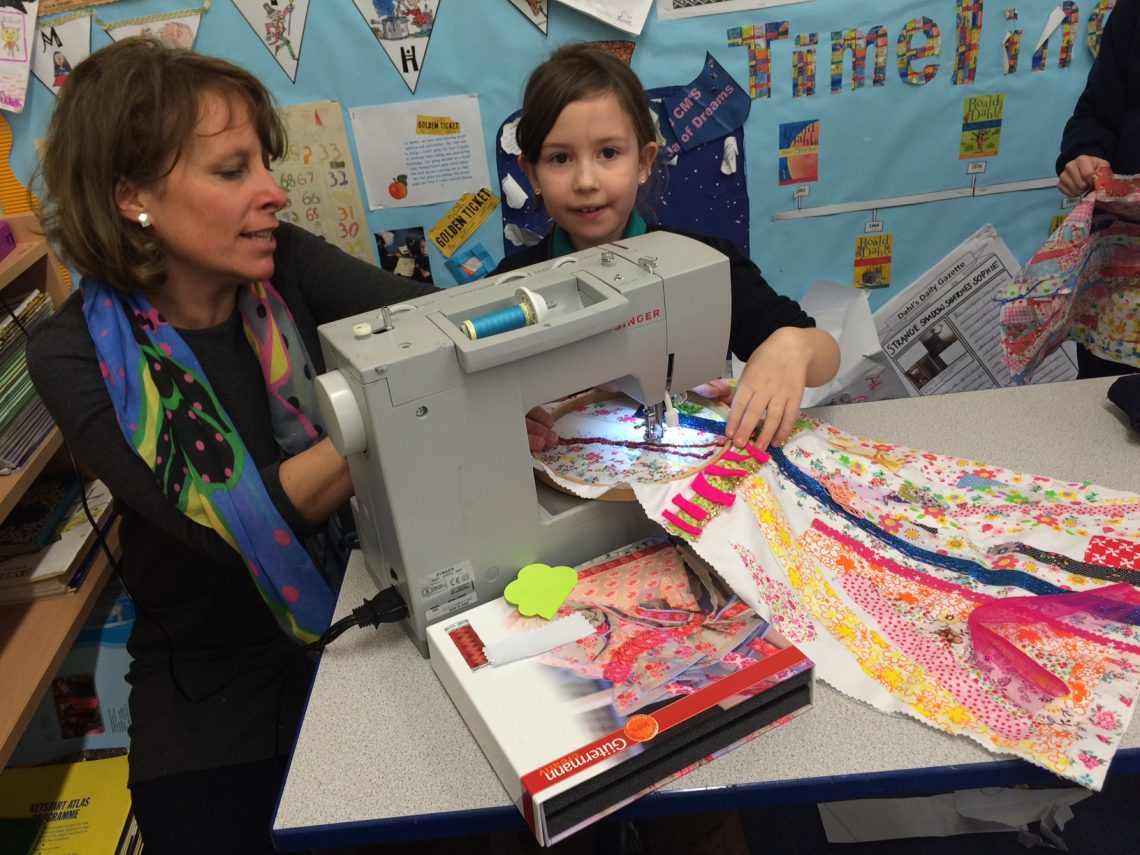 Haf's very popular workshops for children can help your students understand the world of art and give them new career aspirations.
Haf can run a workshop based on her own work or on a number of different subjects. (e.g. fashion drawing, drawing with stitch). She can bring to the lesson examples of her own sketchbooks and can explain how she uses these to develop an idea and relate this back to GCSE and AS /A2 assessment. She can look at students coursework and suggest ideas and other artists to study to assist them with their work that can help develop their own personal pathways.
Although trained in secondary education, she is also very experienced at teaching younger aged groups. She is a fluent Welsh speaker.
Costs
One whole day workshop with Haf Weighton = £250 plus materials and travel expenses
To find out more or to book one of Haf's school workshops please contact her direct on haf@hafanhaf.com
Presentations and workshops
Haf is an experienced public speaker and has given talks at various public events including at The Knitting and Stitching Show. She is also a fluent Welsh speaker and is happy to give presentations in Welsh.
Her talks and workshops are very popular. As an experienced teacher, the themes of her workshops can vary depending on the groups she is teaching. In the past she has delivered workshops on free motion stitching, hand stitching and transfer printing. Often using people's family homes as the starting point for workshop ideas.
Please contact her direct for more details regarding presentations and workshops.
Costs
£250 per day plus travel expenses and materials.