Comisiynau Cyhoeddus
Maer yr adeiladau lle yr ydym yn gweithio a byw yn gallu fod yn bwysig i ni. Yn aml mae gan bobl gysylltiadau cryf ag adeiladau.
Yn y blynyddoedd diwethaf mae Haf wedi cael comisiynau cyhoeddus gan Ysbyty Rookwood yn Nghaerdydd, Ysbyty Meddwl Hafan y Coed yn Llandochau a Ysbyty y Bari. Mae ei phortreadau o tai hefyd wedi cael ei brynu gan Ysbyty y Whittington yn Llundain.

Fe fydd Haf yn medru gwario amser yn eich adeilad  i greu brasluniau ac i ddeall pwysigrwydd yr adeilad i'ch staff a'ch cwsmeriaid.  Ar ol gorffen y darn fe fydd Haf yn medru eich cynghori am ffram addas i'ch llun.
Hefyd fe fydd Haf yn medru mynd allan i'r gymuned lleol i drafod ei gwaith. Er engraifft, fel rhan o gomisiwn Ysbyty Rookwood aeth Haf i Ysgol Glantaf i ddangos enghreifftiau o'r prosiect ac i wneud gweithdy gelf ar yr ysbyty gyda myfyrwyr Dosbarth Chwech yr ysgol.
Tra yn creu ei darn fe fydd Haf yn medru defnyddio  weplyfr, trydar a instagram i godi diddordeb yn y darn. Fe fydd hefyd yn medru defnyddio ei chysylltiadau gyda'r wasg i godi proffil eich llun gorffenedig.
Fel arfer fe fydd y darn gorffenedig yn cael ei ddadorchuddio yn swyddogol ac fe fydd aelodau o'r wasg yn dod i gymrud lluniau, cyfweliadau a ffilmio.
Fe fydd Haf yn medru gweithio gyda'ch adran gyfathrebu i gyhoeddi datganiadau i'r wasg yn Gymraeg ac yn Saesneg.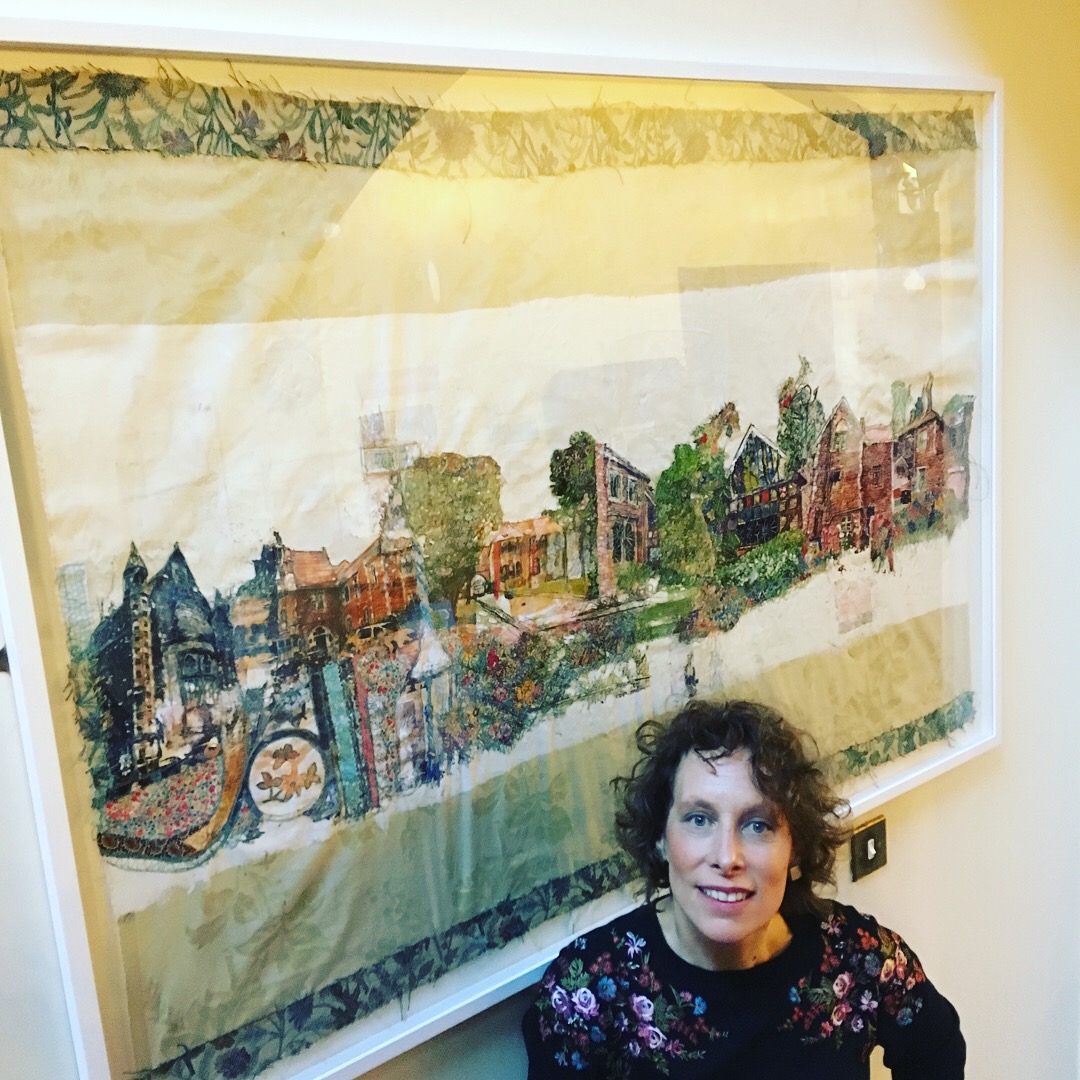 Public Commissions
Buildings where we work, where we live become increasingly important to us when we spend time in or around them.  Often people have strong connections with buildings.
In recent years Haf has received Public Commissions from Rookwood Hospital in Llandaf, Cardiff; Hafan y Coed Mental Health Hospital at Llandough,  and Barry Hospital. Her building portraits have also been acquired by The Whittington Hospital in London.

Rookwood and Hafan y Coed hospital's  commissioned  pieces that both reflected the architectural beauty of both buildings and celebrated the importance of the buildings to staff, visitors, local people and patients, especially as the institutions were going through a period of change. At Barry Hospital, the piece reflected the history of it's town through it's architecture. At the Whittington the Trust acquired pieces by Haf that are to be placed in a specialist maternity bereavement room.

Haf could work within your building to create sketches, photographs and to learn the importance of the building to all it's service users.
Haf could also go out in to your local community to discuss the commission. For example, as part of her commission for Rookwood Hospital, Haf visited Glantaf Welsh Medium Secondary School and gave a presentation on her work. She also ran a practical workshop with students from years 13.
When finished Haf would liaise with you and local framers to create a suitable frame for your piece.
Haf could use her popular social media networks to build up interest in the commission whilst it is being created.
Once completed Haf would work with the media to raise the profile of your piece of art.
The final piece would be unveiled at a formal event where members of the press could be invited to conduct interviews, film and take photographs.
Haf would work with your PR team to publish Welsh Language and English, Local and National Press Releases to attract the interest of the media.
Haf Weighton is a contemporary textile artist. she has established an unique area of practice, by her combination of craft and art. Swathes of paint combined with individual tiny stitches, which combine to form painterly compositions on a grand scale. Her work can transform any space and has to be seen first hand to be truly experienced.