Dysgu a gweithdai
Haf is a trained teacher and qualified in 2003 from Brighton University with a PGCE in art, craft and design.
She taught art at Highgate Wood School in North London and was second in charge of this successful art department.  Haf initiated many partnerships for the school, including with the Saatchi Gallery.   The Estorick Collection of Futurist Art, The Royal Albert Hall and The British Museum.
Since moving to Wales in 2015, Haf has run many school's projects as a  Creative Practitioner for the Arts Council of Wales . A project she ran at Pencoed Primary School, aimed at raising student attainment in numeracy, was displayed at The Hearth Gallery, Llandough Hospital in March 2017 and at The Saatchi Gallery in Spring 2018.
Haf is also employed by Criw Celf to run art workshops for students and training for art teachers at secondary schools across South Wales.
Haf also ran training for teachers and for Estyn staff at their annual staff conferences on the theme of creativity and innovation.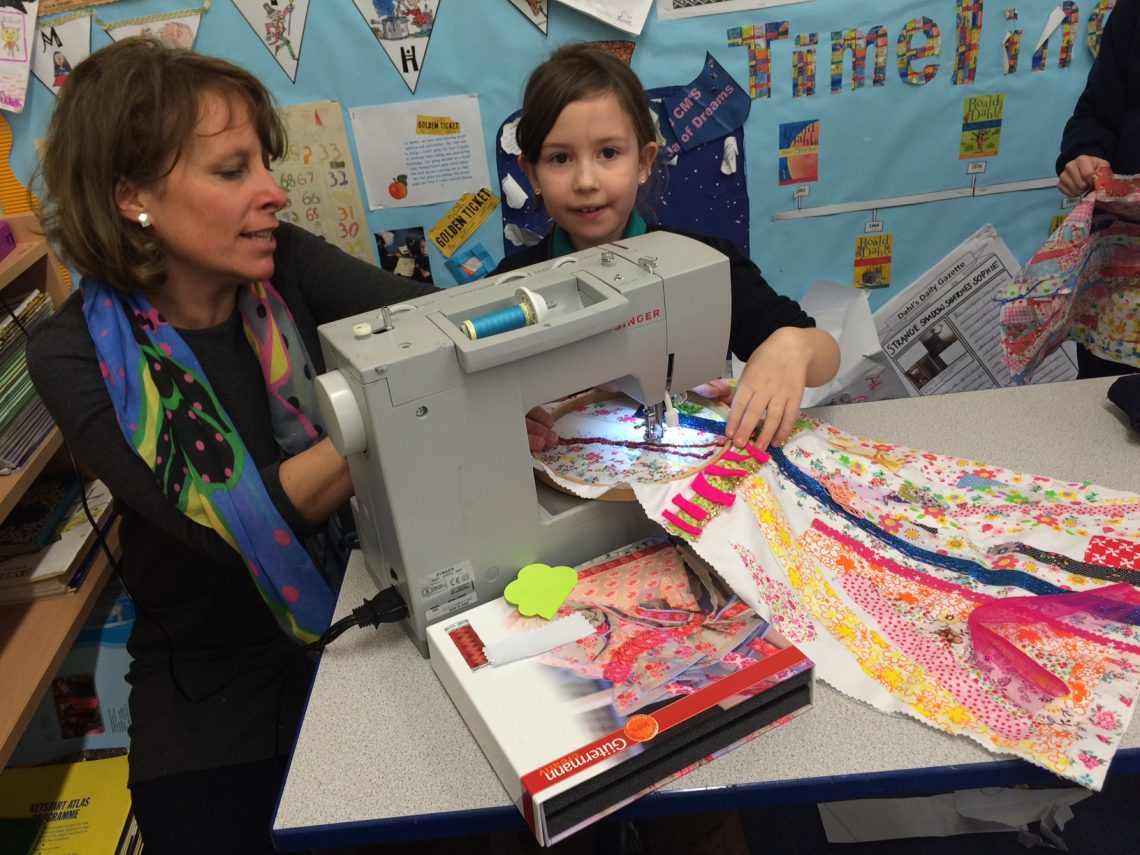 Although trained in secondary education, Haf is also very experienced at teaching younger aged groups. She is a fluent Welsh speaker.
Costs
One whole day workshop with Haf Weighton = £250 plus materials and travel expenses
To find out more or to book one of Haf's school workshops please contact her direct on haf@hafanhaf.com
Presentations and workshops
Haf is an experienced public speaker and has given talks at various events including at The Knitting and Stitching Show  at Alexandra Palace in London and representing The Arts Council of Wales      at Careers Wales.
She regularly gives talks to The Embroiderers Guild's and Merched y Wawr. She has also been interviewed on National Broadcast Television and was featured in a campaign on the spirit of British creativity by The Royal Mint UK.
Since the beginning of the  Covid-19 Pandemic Haf has run many workshops online and she is very experienced with platforms such as Zoom. Haf ran an online global stitch challenge for the www.textileartist.org Stitch club in 2020.
She is also a fluent Welsh speaker and is happy to give presentations in Welsh.
As an experienced teacher, the themes of Haf's workshops can vary depending on the groups she is teaching. In the past she has delivered workshops using both machine and hand stitch. Often using people's family homes as the starting point.
Please contact her direct for more details regarding presentations and workshops.
Costs
£250 per day plus travel expenses and materials for workshops.
£150 for a one hour presentation.
I was inspired by visiting artist Haf Weighton's drawings of buildings in the folding sketch books and the large colourful painted scenes on stretched canvases.  The folding book images particularly interested me as when opened, they created a wonderful, elongated street scene.  The workshop inspired the development of my own work.  I have discovered, I am really good at drawing buildings.  The folding books, add an extra, exciting, element, creating a new way of working and producing unusual interesting panoramic, artworks.


Student, Ysgol Gymraeg Bro Morgannwg